$

85.50
Winmax front brake pads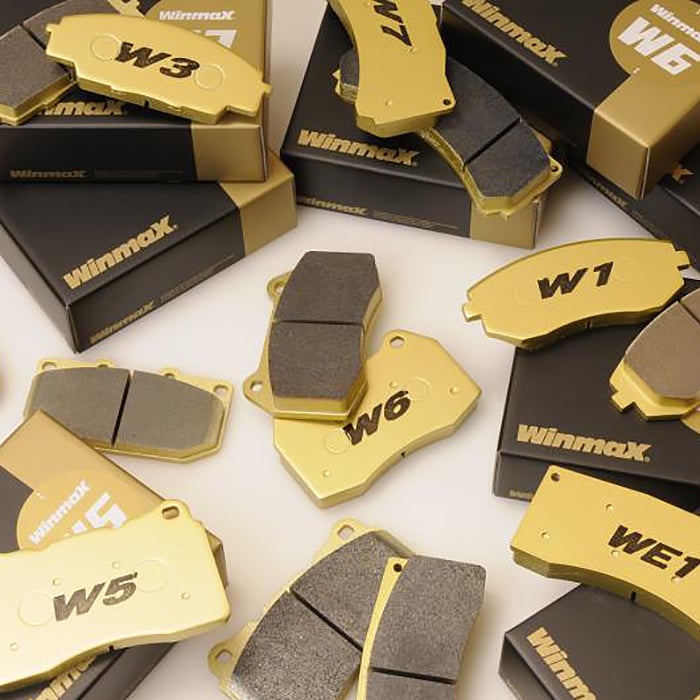 Established in 1984, WINMAX CORP. is one of the leading performance and racing brake parts manufacturers in Japan. As a subsidiary of OEM supplier MK Kashiyama Corp., Winmax has delivered a combination of racing passion and meticulous engineering for decades. Used by top motorsport teams in road racing, rally racing, gymkhana, autocross, and time trials, Winmax brake pads have been rigorously tested in competitive racing environments throughout the world.
Our Recommendation for S2000's based on our tests:
W1: for OEM replacement street only use.
W2: for aggressive street use, canyons and winding roads.
W3: for aggressive street / light track use.
W4: for dedicated track pad. HPDE track days.
W5: for R-Compound or slick tires and those who like a very strong initial bite.
W1
The W1's non-steel material brake pads are a perfect upgrade from factory for the drivers that needs increased stopping power. Using an effective brake pad compound, the W1 works instantly from ambient temperatures and provides long lasting pad life and rotor wear.
W2
Versus the W1, the W2 has a slightly higher temperature range and coefficient of friction for increased braking power. This is a performance brake pad designed for those that enjoy sporty driving without the harsh characteristics and high wear associated with a typical full racing brake pad.
W3
These specially formulated pads still minimize brake dust and noise emissions while providing the best brake control. The W3 is the ideal choice for those who want to maintain great rotor and pad wear without compromising performance.
W4
By incorporating low levels of steel material into the brake pad composition, increased effectiveness and brake control were enabled. The W4 is a conservative yet powerful circuit pad for virtually any type of racetrack.
W5
Made with high steel ingredients but perfectly balanced for large circuit racing, the W5 is the choice for seasoned track enthusiasts. Recommended for dedicated racecars where protection against extreme brake fade is required.
W6
The W6 excels most at higher temperatures, especially made for harsh motorsport conditions such as rally racing. A linear braking output can be experienced as more force is applied as well as increased brake control at higher speeds.
W7
Professional class brake pads that have the highest heat tolerance and effectiveness as well as break-neck coefficient of friction stopping power. These pads are also designed to work with race vehicles with deleted master cylinders.